So, you know when you're starving for lunch at like 10:00 a.m.? Sometimes, it happens to me if I skip breakfast, sometimes it happens to me when I've had a breakfast that includes all of the elements of the food pyramid. Today was one of those days. I had breakfast, not a full food pyramid of breakfast, but still, I had it.
when "they" make eating healthy MORE of a challenge for me is when i resign to eating cookie dough for every meal.
Back to my starvation, everything was normal today except I was ready to eat my stapler 10:00. I knew I was going to need
LUNCH
. Not
lunch
, like the hummus, vegetables and apple I keep in the work fridge that I strive to eat at 2:00 so the afternoon goes by faster, but rather LUNCH. Like a full meal of food that I need to eat at noon sharp so that I don't go into a coma from low blood sugar.
One place calls my name on these days, it says, "Alexisssss, I will feed you."
The name of that place is Chipotle, you might be familiar with it. I usually get a salad there and all is right in the world. Today, I needed more than the salad, I needed the burrito bowl. AND chips and salsa. This is also one of those days where I needed Mary with me in the line at Chipotle to tell me how fat I am, so I stop ordering food. Alas, Mary wasn't there. Alas, I'm still eating chips y salsa.
Another perk of Chipotle today, besides the whole taking care of my starvation bit, was the friendly staff. I don't know if their regional corporate advisor was in town today or what, but whew, those employees were chipper! And whew, I liked it! People that do their jobs well is so refreshing. They gave me the mild AND the medium salsa, so I can be sure which one that I liked. Well, okay!
Maybe the reason I appreciate people who do their job WELL is because I'm not sure that I am one of those people. To do my job well consists of acting busy 80% of of the time. When you've accomplished that, you start to ask yourself why you're at this job in the first place. Then you start a blog and you get back on Facebook.....hmmm, anywayyyyyyy....
Since we are talking about food....I thought I'd share some Culinary Adventures with you.....
So far, Bob and Al have had a daring week with PESTO!! Al hearts pesto!
On Monday we had baked ravioli pasta dish with pesto and parmesan. Rich and cheesey and good! We got the recipe from a Real Simple Weeknight meals magazine/cookbook thing that Bob's mom gave us.
It was wait for it....wait for it.......REAL SIMPLE! (love all those Real Simple magazines btw...)
Here's the recipe:
1 package of frozen cheese ravioli
3 Tblspns. store bought or homemade pesto (actually it could have been more pesto? just cover the ravioli's in pesto)
1//4 parm
Boil ravioli. Drain. Mix with pesto. Put into a baking dish. Cover with parm. Bake for 20-25 minutes on 375 degrees.
Bob and I gage things on if we would serve them to guests that we have over for dinner. Since we do that so much?? HA. But, we said we'd serve this at one of our hypothetical dinner parties. So I'd say that equals success. PLUS, like I said it was REAL freaking SIMPLE.
Since we had pesto left over, it only made since to have another pesto infused dish for Tuesday's dinner. I found this recipe from one of my new favorite bloggers that had a recipe exchange....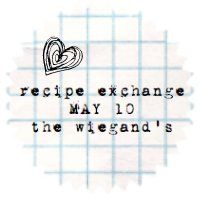 I took Roasted Veggie Pesto Pasta from
this blog
and it was pretty pretty good! A great way to get those veggies in. Also, check out the recipe exchange if you're needing some new/good recipe ideas. I'm always needing those....
All for now!!